Used Pianos at Cordogan's
The following thumbnails are photos of reconditioned pianos recently in Cordogan's inventory. Not everything in inventory is pictured and our stock changes daily, so if you don't see what you're looking for, please give us a call and we'll let you know what is on its way in to Cordogan's!
Please click below on the appropriate title to view photos of Cordogan's used inventory!


Used Vertical Pianos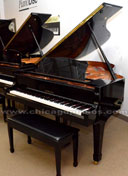 Used Grand Pianos & Baby Grand Pianos




Used Digital Pianos

Looking for a Bench? Check out
Cordogan's Piano Bench Inventory!
*Please note: We also carry a number of NEW piano lines, and are authorized dealers for Kawai, Shigeru Kawai, Estonia, Wm. Knabe, Samick, Hallet Davis, Charles R. Walter, Roland, Casio,Hobart M Cable, Hardman, PianoDisc, QRS and others! Please click the links for more information on these new piano brands.

Please view our "How much are Pianos?" page for more extensive information on buying a used piano!
Email us at info@chicagopianos.com

America's #1 Online Piano Consumer Guide, written, hosted and maintained by: