Click here for our Roland Digital Piano Inventory
Check out our blog for more extensive information on the benefits of owning a digital piano with headphone capability!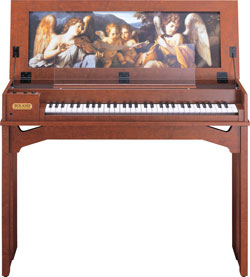 If there was one brand that could be considered the most important to the electronic music world, it would be Roland. They actually founded the whole industry and founded MIDI-- the digital language used to produce these products. They invented the digital piano all the way back in 1974. In 1980, Roland's relationship with Oscar Peterson launched the industry's first artist endorsement. One of the unique elements about the Roland brand of pianos is that they don't make acoustic pianos so when it comes time for them to choose a concert grand piano from which to sample acoustic piano sounds, they are not politically limited to their own brand of pianos...since they don't make them, unlike Kawai and Yamaha, who naturally sample their own concert grands. Roland chooses to sample a Steinway concert grand. And not just any Steinway grand. Since Roland's factory is in Japan (where German Steinway are sold), they sample a Hamburg Steinway. Additionally, since Steinway doesn't make digital pianos, a Roland digital piano is the only major brand where you can own and experience the sound of a digitally-sampled 9' Hamburg Steinway concert grand piano.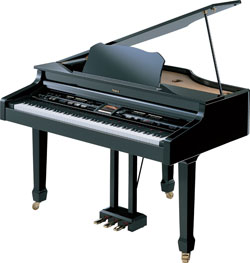 Another unique feature of Roland is that they still make their digital piano electronic components IN Japan and assemble them in Hillsboro, Oregon. Without an explanation, this point may not seem as important as it really is. At Cordogan's we have been carrying digital pianos since the mid 1980's and it wasn't long before manufacturers began building digital pianos outside Japan. We've since seen pianos made in Korea, then Malaysia, Taiwan, Indonesia and most recently China. Without getting into the boring details, the most reliable, bulletproof digital piano components and actions are made in Japan. This isn't by chance by the way. Roland has a testing facility that puts all of their instruments through climate tests, shake tests, drop tests, wear tests (auto-playing machines strike keys and pedals hundreds of thousands of strikes) and even EMC tests at their own EMC testing facility where they beam pretty much every frequency at their instruments to make sure that the instruments are neither transmitting or receiving annoying or harmful frequencies.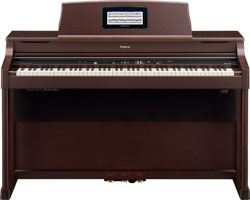 We also love the fact that they are a very eco-friendly company as well, which among other things, produces low-energy digital pianos with auto shut-off features. They also have a reforestation project which replaces any trees used in the production of their instruments.

Email us at info@chicagopianos.com

America's #1 Online Piano Consumer Guide, written, hosted and maintained by:



33W441 Route 38 (ship) /
PO Box 514 (mail)
Geneva, IL 60134
(630) 584-5000

***