Yana Reznik - LIVE in concert at Cordogan's Pianoland, October 24th, 2013
RSVP @ office@chicagopianos.com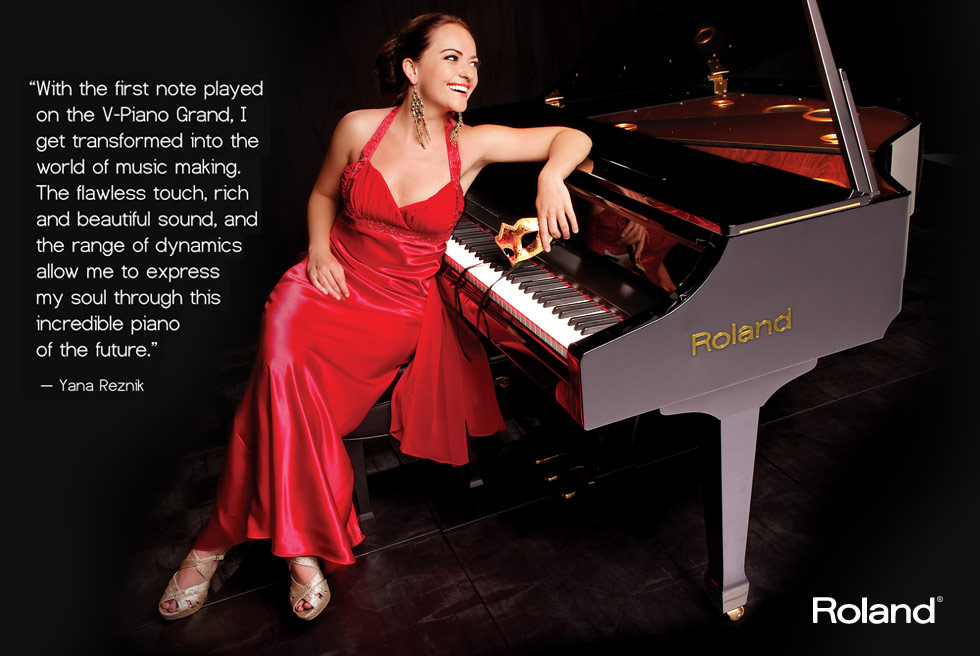 WORLD-CLASS PIANIST TO PERFORM TRADITIONAL CONCERT ON NON-TRADITIONAL INSTRUMENT
Yana Reznik's Digital V-Piano® Grand Concert Hosted at Cordogan's Pianoland in Geneva
Geneva, IL, October 1, 2013 —Russian-born pianist Yana Reznik is performing a traditional concert on a non-traditional Roland V-Piano® Grand in Geneva on Thursday, October 24, 2013 at 7:00 PM. Cordogan's Pianoland is hosting this unique performance by the world-class performer. "Ms.Reznik's expertise places her at the highest levels of technical, musical, and interpretative abilities," said James Walker, flute faculty at the Colburn Conservatory of Music. With a bachelor of music degree from the Manhattan School of Music, a master of music degree from the University of Southern California, and a professional studies certificate from the Colburn Conservatory of Music, Yana has devoted her life to classical piano and to sharing her musical passion.
Unlike many traditional concert pianists, Yana's instrument of choice is far from traditional. "Compared to an acoustic piano, the Roland V-Piano is perfect," is Yana's sentiment when describing her appreciation of Roland's leading-edge digital piano series. The range of tone color that can be produced by an instrument is what defines that instrument, and the V-Piano Grand's range is nearly limitless.
Digital pianos are often overlooked as an ideal performance instrument for world-class musicians because they don't realize how purely and authentically these instruments can perform. Whatever the piece, be it Mozart or Rachmaninoff, the revolutionary V-Piano Grand offers limitless tone color capabilities and can be voiced exactly as needed. To achieve this type of voicing flexibility on an acoustic piano, a pianist would have to prepare several different acoustic pianos for a single concert, but Yana can reach this level of authenticity with a single V-Piano Grand.
During Reznik's 2011 world tour, Keyboard magazine's Joe Regen complimented her "impressive technique" and pointed out how Yana's performance was able to highlight the "tonal tenacity" of the Roland V-Piano Grand. He further explained, "The instrument was able to emote both the roaring bass and bell-like treble so inherent and needed in classical piano performance," and that rarely had a digital piano ever "sounded so acoustic in performance."
Yana Reznik's musical education and career have taken her all over the world, from places like Rachmaninoff School of Music in Moscow, Russia, while studying with Raisa Bekerman, to the Interlochen Arts Academy with Stephen Perry, to a sold-out Weill Recital Hall at Carnegie Hall debut after winning the Artists International
Competition. "It is not often we see this caliber of musician perform in our town and seeing someone of her skill perform on this type of digital piano is even more rare," said John Cordogan of Cordogan's Pianoland.
---------
About Music Store
Cordogan's Pianoland is Illinois' largest piano store – a 30,000 sq. ft. facility in west-suburban Geneva, family owned since 1950. Cordogan's sells new & used pianos and offers all piano related services – tuning, moving, appraisals, restoration, rebuilding and lessons. For more information, visit http://www.chicagopianos.com.
About Roland Corporation
Roland Corporation is a leading manufacturer and distributor of electronic musical instruments, including keyboards and synthesizers, guitar products, electronic percussion, digital recording equipment, amplifiers, audio processors, and multimedia products. For more than 40 years of musical instrument development, Roland sets the standard in music technology for the world to follow. For more information, visit http://www.RolandUS.com.