WHAT ARE THEY?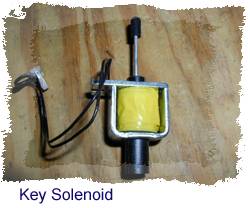 It's a fascinating concept - CD's, Compact Flash drives, SD cards, even iDevices and clouds containing data (and sometimes additional audio accompaniment for your stereo) somehow get miraculously turned into beautiful music by the piano in your living room. Paper rolls laced with holes accomplished this feat for decades, but digital media has now taken their place. In the same fashion CD's replaced vinyl, digital data has turned the paper piano rolls of yesteryear into musical nostalgia. Computer-based player pianos are entertaining, educational and they are very popular. In many areas, player pianos represent more than 50% of all new grands sold to residential customers. And their popularity has just begun!

HOW DO THEY WORK?
Electronic solenoids (piston-like devices) tucked behind each key receive information from an on-board computer telling each key solenoid when to fire, how hard to fire and when to let go. Pedal information and even the speed of the key release on some player systems is also transferred in this same manner. The key solenoids are capable of reproducing up to 1024 volume levels, delivering authentic performances from Herbie Hancock to Horowitz... and we do mean literally "from" Herbie Hancock to Horowitz, as there is software available of their original performances captured digitally - not just someone else performing their works or imitating their styles.
WHAT'S THE LATEST?
All the buzz lately from the manufacturers seems to be about wireless connectivity to iPads and iPhones to control the player system. They all have mobile apps that you can download without owning the product so you can see what they're like. It's a giant step from the 3.5" floppy diskettes and CDs that have been the primary means of controlling player pianos for the past 20 years.

Some systems have built-in thumb drives, hard drives and smart home capabilitities.
Some player pianos allow for the option to record a pianist's performance. How wonderful would it be to chart your child's progress or archive the beautiful music of an elderly relative? Is there any greater keepsake than such musical performances?
Some differences between systems are visibly obvious -- like the functionality of the various iPad/iPhone apps… or how one manufacturer's song library might best suits your tastes… or how downloads from the internet are sometimes not compatible with certain systems. Please consult a Cordogan's representative to hear about the important, distinctive features between the different player piano systems.

The biggest hurdle that you'll likely face is that most piano stores (more specifically the salespeople in them) really don't understand the technology, what these systems are capable of doing and where the technology is headed. You may find yourself amazed that your knowledge of technology will produce simple questions that piano salespeople cannot answer. Hopefully the salesperson will defer to a company colleague who can answer them. If such a person does not exist at within that company, you haven't found the right piano store and you may wish to contact us!

Consumers in some markets are also faced with the challenge that not all products are represented by their local dealers so you'll never get to see the premier models from the two major retrofittable manufacturers -- let alone Yamaha's Disklavier.
Besides our prices, the biggest reason Cordogan's sells to consumers all over the country is because we offer a GIANT, FREE MUSIC LIBRARY with purchase! Cordogan's is proud to be the only dealer in the world who offers a private and ever-growing library of thousands of songs for you to download to your player piano! We began this service in the nineties and have been regularly adding to the library every month since. Customers receive a password to our Downloadable Player Piano Song Library containing music that Cordogan's has either purchased the rights to redistribute, acquired the rights to redistribute or music that is public domain but had been reformatted for player piano systems. At the average manufacturer's price of $2 per song, purchasing this much music could cost up to $10,000 -- if it were even available for purchase. Cordogan's offers hundreds of titles that aren't available through ANY manufacturer's library. We have regular contributors from all over the world, offering high-quality performances that money literally can't buy!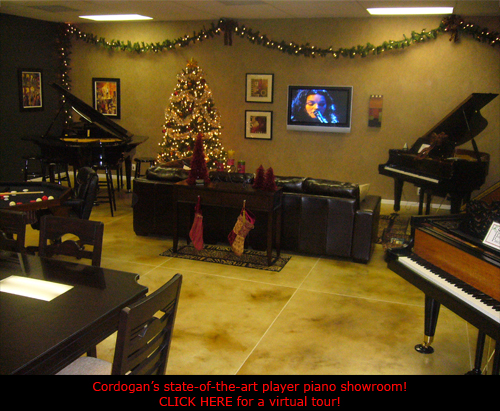 While it is true that current player piano systems are designed to function with virtually any piano, some pianos don't function well enough to allow the technology to shine. These systems will "play" almost any piano, but they can't improve the tone or touch of your piano. Only a fraction of pianos available (new or used) is of a quality level that can reproduce the artistry of these digital performances. So before you decide on purchasing a piano to be outfitted with a player piano system, consider the quality level of the piano itself. Reading this website is a good place to learn about the various quality levels of pianos. By purchasing a player piano system, you are purchasing a concert pianist who will now reside in your home - on cue at your command. The piano you own...or are considering owning, should be of a quality that would allow a fine player to perform well. This doesn't mean it needs to be a 9' concert grand, but it should be a well-made piano with a strong reputation for performance.

The piano quality level needed for a player piano's performance debunks the oft-heard "Well, nobody in our home plays, so I don't need a good quality piano". The fact is that if you want a player piano system -- whether it's factory-installed or retrofitted -- you DO need a good piano.
CAUTION: GEEK ALERT! HUMAN VS. COMPUTER -- WHY PLAYER SYSTEMS CRY FOR A GOOD PIANO!

Consider this: when a human sits down at a piano on any given day, they can instantly and instinctively make adjustments in their playing technique to accommodate the playability of the piano's action. In regions like Chicago where there are distinct seasonal changes, the pianist may have to press those keys a little harder in the summer...and a little lighter in the winter. A computer can't make on-the-spot adjustments in its playing technique. These systems don't know if it's humid, dry, hot, cold, but your piano sure does! Better brands adjust to the seasonal changes better and maintain great consistency season to season, year after year. Shortcomings on player piano performances due to environmental issues include notes that don't make sound ("note dropout"), uneven sound (some notes are too loud or too soft), clicks, buzzes, rattles and tuning instability. In other words, buy as good of a piano as you possibly can, especially if a player piano system is involved. The player system can only perform as well as the piano is capable of allowing it to perform.
ARE USED ONES AVAILABLE?
Yes, but they come and go pretty quickly, so it's certainly worth checking with us. To put everything in perspective though...
Finding a good used piano you want is difficult.

Finding a good used piano in the brand you want is more difficult.

Finding a good used piano in the brand and size you want is even more difficult.

Finding a good used piano in the brand, size, finish, age, condition and price range you want involves a time-consuming piano-hunt.

Finding a good used piano in the brand, size, finish, age, condition and price range you want, WITH a player system already installed, configured the way you want, with current technology, well...how much time do you have? :)
Used player grands often sell before they arrive in our showrooms, to customers who have been entered in our database. If you'd like us to begin the hunt for you, please contact us with your wish list. We'll let you know when one becomes available. The other option, and one with a much greater degree of flexibility is to find the perfect used piano and have us install the player system configured to your needs. Cordogan's has a huge selection of used grand and vertical pianos, all reconditioned or rebuilt with thorough warranties.

WHERE DO I BEGIN?
Purchasing the best player piano for your money requires nothing short of an expert to help you. The technology in these systems is rapidly evolving, and the dealer you choose needs to be on top of it all. If you would like to see and hear all these features, stop by Cordogan's, or if you're from another area, please feel free to call 630-584-5000. Cordogan's ships player pianos all over the country!
Please take a virtual look at our new, state-of-the-art player piano showroom, complete with a a multi-media demonstration with a plasma TV, 5.1 surround sound. There's nothing like it in Chicagoland!