***
CORDOGAN'S SUMMARY OF KEMBLE PIANOS: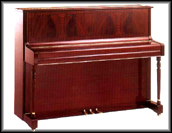 Over the past 90 years, Kemble has become the best selling British piano in the world and the largest piano manufacturer in Western Europe. Kemble -- not to be confused with the defunct American brand "Kimball", emphasizes unique, streamlined designs which easily accommodate both traditional and contemporary décor.

Kemble's cabinet styles are timeless, unlike the pianos that are designed by most manufacturer's to cater to the North American market. To illustrate this point, if you look through our used vertical piano inventory, you can look at most of the furniture-styled pianos and be able to guess which decade many of them were made. The blond oak from the 50's and the 60's...the medium or light walnut of the 70's...the pecan and darker oak from the 80's...wire music racks...cane music racks...these were all trends that, at the time, were popluar with the furniture industry. Today, piano makers are keeping up with those trends, but 20+ years from now, today's new pianos will likely be dated too. Not Kemble. They've been making their cabinet styles for decades and they've proven to be timeless -- a real testiment to artistic beauty and design.
Kemble pianos represent a very desirable blend of tradition and technology. The Kemble company has a long-standing relationship with Yamaha pianos, who choose the Kemble factory in London to manufacture most of Yamaha's line for the Western European market. In other words, if you live in Germany and you want to buy a 48" Yamaha U1 or a 52" U3 professional upright, the piano you're buying is made at Kemble's plant in England, not Yamaha's plant in Japan. Obviously, Kemble continues to manufacture its own pianos as well. Kemble pianos share the highly respected technology, key actions and even the scale designs of Yamaha pianos, but they have the character and style of handmade European cabinet designs.
If there are two areas of frequent criticism for Japanese pianos in comparison with their higher priced European counterparts, it's the notion that they don't have as much cosmetic and musical character. These are two areas that Kemble addresses while still maintaining a price point that is MUCH closer to Japanese pianos than European pianos.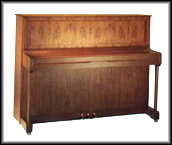 For literally hundreds of years, the British have always been the industry leader in craftsmanship and innovation when it comes to piano cabinetry. Maintaining the British tradition of impeccable woodworking, Kemble's cabinetry is undeniably meticulous and tasteful. Laser technology employed in their factory ensures the precision of each line in their veneers and inlays. Kemble also manufactures specialty pianos with contemporary cabinets engineered by award-winning European designers. While the Japanese piano manufacturers continue to focus on utilitarian designs, Kemble offers a refreshing option to get Japanese consistency with European panache.

To create "The Kemble Sound", Kemble pianos employ Bavarian spruce soundboards -- an expensive upgrade from the standard Yamaha piano and one that Yamaha reserves for their $160,000+ concert grand. This higher grade soundboard gives Kemble uprights a distinctly different and warmer sound which most pianists will prefer more. This upgrade comes at a price, but fortunately Kembles are only typically 10-20% more than a comparable Yamaha piano -- not 50% more like most other European uprights. According to the Piano Book (the only regularly updated and distributed consumer guide to pianos in print), Kemble pianos are rated a "Category 2", while Kawai, Yamaha, and the Kawai-made Boston piano (sold by Steinway) are all in the lesser-rated "Category 3" family of pianos. Kembles have all the consistency of new Japanese instruments with an Old-World European style and sound.

Buyers for Kemble pianos tend to be people who fall into one of the following categories:

1) prefers European quality.
2) likes Yamaha but wants more character both musically and cosmetically.
3) wants a Yamaha U1 or U3 but doesn't like the finishes offered by Yamaha.
4) sees a Kemble design and says "that's my piano".
5) must have nickel hardware -- not brass.
6) auditions both Yamaha and Kemble but prefers the musicality of the Kemble

The unification of strong visual and musical aesthetics coupled with affordable pricing makes the Kemble a good value for customers seeking a premium instrument.

Please call or email for information on how to audition the distinctive Kemble piano line.
***