Tips for Photographing your Grand Piano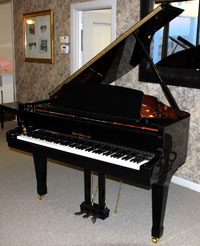 Picture #1 -- The full shot: Try to get the entire instrument and bench in the picture from a the front right corner, as shown, with the key cover open. This will give us the opportunity to see both the front and any design work / wood grain on the side of the piano's rim.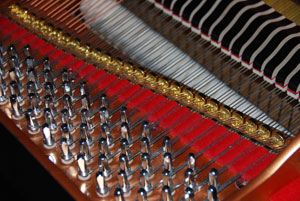 Picture #2 -- Close up of the tuning pins: The closer you can get to a section of tuning pins (say, one third of the total number of the piano's tuning pins), the better. Clarity is important here, as we are looking to be able to see important detail work. You will need to slide the music rack out of the piano to capture this vantage point.




Picture # 3 -- The iron frame and strings: You'll need to lift up the lid for this one. Try to get as much of the interior as possible -- strings and iron frame.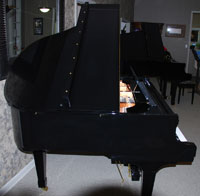 Picture #4 -- The full shot from the other side: same idea here, only we would like to see the other side along with the lid.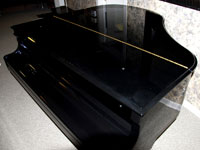 Picture #5 -- View of the closed key cover and closed lid: In this picture, we would like to see the key cover in the closed position and we are looking for continuity in the finish of the lid when it is closed. Sun fading most often occurs in the parts of the lid that are exposed to sunlight when the lid is open. It is most visible when the lid is closed, so the comparison against the unexposed lid parts is also in view.
Please submit all images in an email to purchasing@chicagopianos.com. Also be sure to fill out our "selling our piano" form!

Thank you!